Ayr Seaforth AC was formed in 1961 following the merger of "Ayr Athletic Club" and "Seaforth AC". The Club was established at Dam Park Stadium where its athletes would train for the next 60 years.

On Saturday 15 April 1961 a meeting for clubs in the West of Scotland which was to be called the Seaforth AC Trials, this meeting being the very first on the new track at Dam Park Stadium. Several local clubs namely Kilmarnock Harriers, Beith Harriers and Irvine YMCA did not attend but many others from the area did. Reports show that the new track was described as 'soft but in time will become very fast'.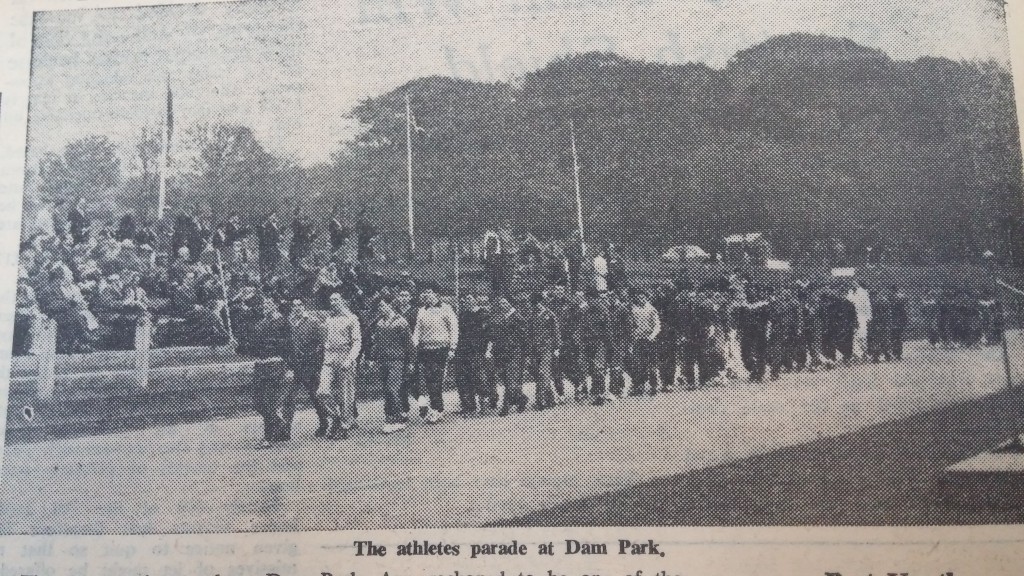 Local records show that prior to the inception of Ayr Seaforth Athletic Club there were two clubs in Ayr namely Ayr Athletic Club formed in July 1932 and Seaforth Athletic Club which was formed in July 1958. From an article in the local press dated Friday 14 April 1961 it was reported that a meeting of both clubs was to take place in The Cecil Tearooms, Ayr the following Thursday to discuss the merging of both clubs into one body known as Ayr-Seaforth Athletic Club. It was also reported that a sub committee made up of representatives of both the aforementioned clubs had met the week before to prepare recommendations for the meeting in the tearoom.
The following week the local papers reported that the inaugural meeting at Dam Park Stadium would take place on Saturday 29 April featuring two Olympic high jumpers namely Crawford Fairbrother the Scottish Champion and Gordon Miller the British Champion. Both men were joint British record holders at the time having jumped the dizzy height of 6'8¼". A week later it was reported that although Miller was to "fly in by jet" (a relatively new thing in those days) he would not be attending as he had been injured.
A separate report that week showed that the meeting in the Cecil Tearooms had taken place where it was unanimously decided that it would be in best interest of athletes in and around Ayr that the two clubs should merge. The new club was to be called Ayr-Seaforth Athletic Club and its colours were to be a white vest with a red diagonal cross which had been the official vest of Seaforth AC. It was also proposed that the club badge would be the badge of the town of Ayr if the local council agreed to it being used but it would seem this never came to fruition as there is no record of the badge being used. The first committee of the new Ayr Seaforth Club are shown as being :-
President                 W.Berry
Vice President        F.McCarvel (formerly of Seaforth Athletic Club)
Secretary                J.Boyd
Committee             E.Thursby (formerly of Ayr Athletic Club and to become stalwart of Ayr Seaforth Athletic Club), J.Boyle, A.Stewart, J.Wilson, M.Gibson, D.Seath.
The programme for the inaugural meeting held on 29 April 1961 shows that plans were already underway for a grandstand to be built at Dam Park and on 12 May an announcement was made in the press that the construction was to go ahead at the cost of £30,750.

It was also reported on that date that Ayr Seaforth AC would be travelling to Glasgow to compete as a club in its first ever match against Glasgow University & Jordanhill College with the match thought to have taken place at Westerlands, Glasgow.
In 1974 Ayr Seaforth Athletic Club affiliated to the Ayrshire Athletic Club, a move which was for the benefit of the Road Running section who wanted a strong team to enter the most important Road Race of the year – the Edinburgh to Glasgow race. At that time the club boasted a grand total of 25 members although club records from 1972 show a membership of 12 seniors, 1 junior, 8 youths / boys.
In 1974 the man who became known as Mr Ayr Seaforth (Glen Harrower) joined the club and immediately volunteered as General Secretary, a post he still held when he sadly passed away in 2012.
For the next 4 years Ayr Seaforth in essence did not exist as they were effectively the backbone of the Ayrshire Athletic Club but in July 1978 a special general meeting was called in Ayr when it was decided to withdraw from the Ayrshire Athletic Club and Ayr Seaforth was reborn with a membership of 60 from the 162 members of the Ayrshire Athletic Club.
By August 1979 club membership had risen to 248 but through sheer hard work and commitment to the club by the various committee members throughout the following few years the club membership had risen to an amazing 468 members in November 1982.
From 1988 till 1991 the club was known as A.C.Moir / Ayr Seaforth A.A.C. owing to a sponsorship agreement although when this ended the club reverted back to Ayr Seaforth A.A.C.. In 1998 the club once more assumed a new name, this being Digital Ayr Seaforth again owing to a sponsorship agreement which ended in 2000. The club remained known as Ayr Seaforth A.A.C. until 2008 when it became known as Ayr Seaforth Athletic Club.
In November 2022, Ayr Seaforth said goodbye to Dam Park Stadium after 60 years of training at the facility. The club moved into a brand new training facility on 14th November 2022, following an £8.5 million investment by South Ayrshire Council. The new stadium has been named the Riverside Sports Arena and it boasts an indoor sprints and jumps space, 250 seat covered grandstand, changing pavilion and 3D pitch.